XRAY NT1 Lipo Battery Plate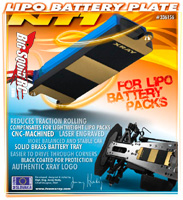 Got an Xray NT1? Looking for a LIPO receiver pack for it? Here is your new tray! Designed to offset the lower weight on LIPO and still maintain the outstanding handling characteristics of the NT1. CNC-machined, solid brass and coated black coated for protection the tray brings the weight to the lowest part of the chassis which makes for a more balanced ride effectively reducing traction rolling in high traction conditions.
Get a head start on the competition and jump on over to Xray to check it out!