XTM Racing 1/8 scale Sand Rail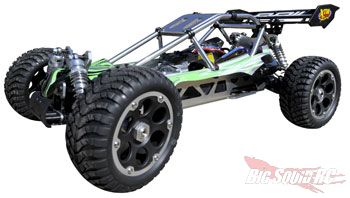 Looks like RCCA got an exclusive first look at the new XTM Racing 1/8 scale Rail.  From the pictures they're sharing on the interwebs the Rail looks a lot like a scaled down 5B (NTTAWWT).  It's going to be available as a brushless electric and nitro version, is 4WD with three differentials, and comes RTR with a 2.4 GHz radio from Airtronics.
Hopefully we'll get some more info from XTM about this new take on the 1/8 scale buggy, but until then check out the press release at the Radio Control Zone forums.