Yeti Option Parts from Axial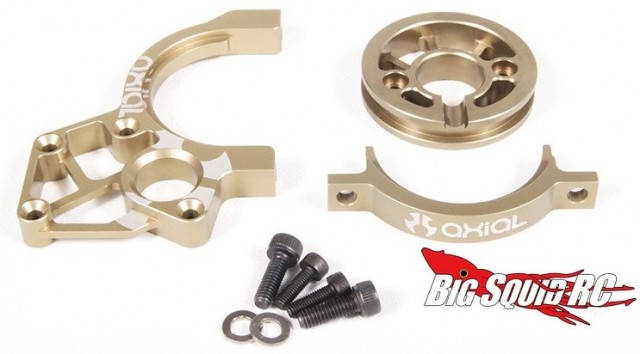 With the new Axial Yeti firmly in the hands of the bashing public, the Axial crew has announced a slew of option parts to make it even tougher and tricker looking.
As shown above, Axial has a new high-zoot adjustable motor mount. This is CNC machined from 6061 aluminum, has a part number of #AX31156, and is street priced at $56.
A 94mm universal axle set is also on the way. These provide a smoother and more efficient drivetrain and are made from hardened steel. They have part number of #AX31135 and will be street priced around $36.
For you guys throwing serious power in your Yeti, 32P machined steel spur gears have also been announced. You can get these in 68, 64, 60, or 56 teeth and they will be street priced at $23 each.
CNC machined slipper plates are lighter than the stock units and are hard anodized for greater durability. These have a part number of #AX31164 and you can expect a street price of around $18 on these.
The new CNC machined 4 link mounts look very trick and are designed to be much more durable than the stock units. These have a part number of #AX31165 with a street price of $43.
CNC machined shock mount plates add a nice shot of bling and should improve durability for you guys that like hucking big jumps. The part number for these is #AX31166 and are priced at $18.
A popular upgrade on nearly any vehicle is to replace the shock towers. The Axial Yeti machined aluminum front shock tower is hard anodized and offers more adjustments than the stock piece. Its part number is #AX31170 with street pricing of $27.
A CNC machined body post mount looks good while helping to eliminate flex. #AX31169 is the part number while it has a street price of $20.
The last upgrade part is a CNC machined sway bar clamp. These look really trick and add extra strength to the mounting points on the chassis. Its part number is #AX31167 with a street price of $29.
All the upgrade parts should be hitting hobby shops in Early October, hit up the Official Axial Website for complete details.
Thank Goodness It's Friday, have a Mystery Link on us.