Your Cub Report, IFMAR Version 09.21.08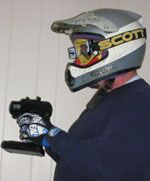 So who's the fastest rc racer on planet Earth right now? Well today after winning the 8th scale off road world championship, arguably it is Japans Atsushi Hara. This is quite shocking, and shocking for several reasons.
Reason #1- Hara drives for HPI/Hot Bodies. While HPI has always made awesome cars and trucks, they aren't known for being a tour de force in 8th scale off road. Nor do they sell an esoteric uber-high-end-racing-only 8th scale dirt machine. Hot Bodies 8th scale D8 buggy is simply a well designed, well balanced, and very affordable machine, who few ever thought was in the same league as the high end Mugens, K-cars, AE's, and Losi's, let alone capable of winning the world championship. Hara proved the D8 was of world championship caliber.
Reason #2- For the first time ever, Americans dominated qualifying at this event. Eight Americans made the final 12, truly an unprecedented number. While the Americans like to pwn the rest of the world in electric classes, their strong suit has never been at the 8th scale IFMAR off road world's. This race is held every other year, and this time, it was held on American soil. Most of our countries most elite drivers took good advantage of that fact by hitting as many races at The Farm 2 (the host track) as possible this calender year. Hara is from Japan, and although he spends some time in the states, he certainly has not gotten in as much time as most of the Americans at the host venue. After qualifying, it seemed nearly certain that an American was going to take home the title on home soil. Most industry types (from other countries) were heard to be complaining of the alleged "home field advantage" the Americans had. Hara proved there wasn't a huge home field advantage.
Reason #3- Hara is known principally for his skillz while driving touring cars. While he's certainly very naturally talented, he is at his best while wheeling a touring car around a curvy track. Hara even has his own uber edtion Hot Bodies touring car named after him. But, if you've been watching 8th scale off road results lately, it's obvious that he has been racing the class at select events, getting some decent results, but never had he gone out and pwn'ed an elite field (until today). Hara made the big show today, but few would have picked this "touring car guy" to go from his 7th qualifying position to the top step on the world championship podium. Today, Hara proved he can win any discipline of our sport and isn't just a touring car specialist.
So congrats to Hara and HPI/Hot Bodies for winning the single most prestigious race our sport has to offer. Congrats to Hara and HB for showing that it doesn't take the most expensive car on the track to win the biggest race. Congrats to Hara and HB for showing what hard work, practice, and a smart head can do at even the most elite of races. Next time you are down at your local track, and some butt-munching local racer/elitist guy tells you that "you just have to buy such and such car, cause I have one and it costs the most, and you can't win with your POS", tell him that Hara could pwn his azz, and well everybodies azz, with much lesser equipment. It's more important what you do with what you have, and how hard you work for it.
That's it for this week rc fans, go fast, crash hard, support your local hobby shop, take a look at the World Champion Hot Bodies D8, and support your local tracks. Or combine them all by buying a new D8 from your LHS, then go down to your local track and get some hot laps in with it!
Your Cub Reporter