ZEUS 850mAh 11.1v Lipo Review
THE Zeus 3S 850 mah 25C LiPo Battery Review
There are a zillion LiPo battery companies out there, a new one on the scene is Chi-Town based Zeus Batteries. Today we'll be taking a good close look at one of their small 3S 850 mah LiPo's to see how it stacks up. Are Zeus packs indeed a step above "mere mortal" batteries? Come on, lets see!

From: Zeus Batteries
Direct Link: Zeus 3S 850 mah 25C LiPo
Review By: Cubby
Pics By: Cubby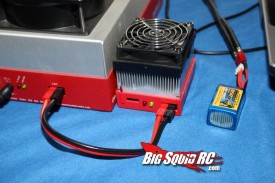 Specs:
Battery Type: Lithium Polymer
Stated Capacity: 850 mah
Cell Configuration: 3S1P
Voltage- 11.1v (max voltage 12.6, min voltage 9.0)
Discharge- Max 25C constant (21.25 amps)
Weight (measured by BSRC, battery including Deans connector)- 69 grams
Dimensions (measured by BSRC)- 53x31x24mm
Balance Plug Type- JST-XH
Stock Connector- Deans
Max Charge Rate- On pack it says "5C capable", but on their site it says "max charge rate 2C/1.7 amps"
Street Price: $18
What's In The Box: Our test pack came ready to jam with a Deans connector pre-installed.
Build Quality: While I didn't tear the pack apart to inspect the innards, the Deans came properly soldered, the balance plug looked good, but the main power wires were arguably a bit on the small side.
Test Platforms: Associated RC18T 4wd 18th scale stadium truck (running a Mamba 8,000 kv system), and Thunder Tiger ZX-2 2wd 18th scale stadium truck (running a Mamba 5400 brushless system)
Test Drivers: Cubby, Brian, Iron Mike
Test Venues: RC Outlaws track, Leisure Hours track, garage, and backyard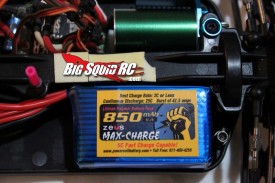 Driving Impressions: Popping the Zeus 3S pack into our 18th scalers definitely made them crazy fast- like mash the trigger and hope you didn't slam a curb or pipe at Warp 6 kind of fast. If you are used to a stock 6 cell Ni-mh going to the Zeus 3S LiPo will rock your world for sure. Compared to more elite 3S LiPo's on the market the Zeus had decent yank but lacked runtime. The more elite LiPo's we compared to the Zeus were all of higher capacity, yet fit just as well in the battery trays of our test trucks.
About The Graphs: We used a West Mountain CBA discharger to performed a 1C (.85 amp) discharge to test capacity. Next we did a 6C (5.1 amp) discharge, then a 10C (8.5 amp) discharge, then a 20C (17 amp) discharge, then a 25C (21.25 amp) discharge, and finally an over spec 30C (25.5 amp) continuous discharge to see how well the Zeus held its voltage under a continuous load. The higher a battery can hold its voltage, the faster your car/truck will be. Ambient temps for all bench tests was 65 F, the pack was always charged on a Hyperion 720iNet3 at 1C/.9 amps and voltage cut-off was always set at 3.0 volts per cell during discharges.
Misc Notes about bench testing–
Yes, I know the 30C discharge we performed on the pack was out of spec, but that's what we do around here. The Zeus was listed as a maximum of 25C continuous and it did not like 30C one bit. LOL It didn't really have a discharge "curve" at 30C, it was more of a straight vertical line, but because that was out of spec it should not be held against the Zeus. The fact that we tested it at 30C and the Zeus lived to fight another day should be considered a big plus.
The discharge curve at 25C shows a "horseshoe" at the beginning- this is where the pack actually put out higher voltage further into the discharge than it did in the beginning. You never want to see a horseshoe in a discharge curve as this is an indication the pack is being pushed too hard.
All the other curves are pretty solid, albeit for some roughness early in some of the curves. The 20C graph is impressive for the price point of the Zeus.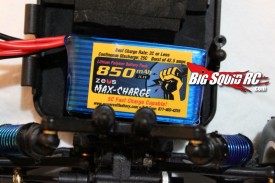 Measured Temps:
1C – 74 F
6C – 95 F
10C – 106 F
20C – 124 F
25C – 138 F
30C – 71 F
Measure Capacities:
1C – 824 mah
6C – 793 mah
10C – 799 mah
20C – 779 mah
25C – 732 mah
30C – 80 mah
Measure Run Times:
1C – 58.2 minutes
6C – 9.3 minutes
10C – 5.7 minutes
20C – 2.8 minutes
25C – 2.1 minutes
30C – .2 minutes
---
As with all of our stuff, if you see us at a bash, stop by and check out the vehicles we have with us. We may let you take a test drive, and at the very least get you some stickers!
SUMMARY
Time To Bash – 9.5/10 -The Zeus comes with a connector already soldered up, and if indeed it is a 5C charge pack you can be on the track in no time.
Car Show Rating – 7/10 – Very plain styling looks fine but isn't much on the bling factor.
Bash-A-Bility – 8/10 -Our Zeus pack lived through our abuse, even when we tested it at a continuous discharge rate that was well above its stated 25C maximum continuous discharge. We had no issues with the cells venting internally (puffing), however we did dent and ding the pack while driving because it did not have a hard case to protect it. We would really like to have seen the Zeus come in a hard case.
Fun Factor – 9.0/10 – 3S in a brushless 18th scaler is ALWAYS a lot of fun. 🙂
Power- 8.0/10 -Compared to a cheap/stock 6 cell Ni-mh the Zeus 3S is a drive-shaft destroying rocket ship.
Value- 8.0/10 – There are cheaper packs on the market and there are more expensive, the Zeus comes in on the more affordable end of the spectrum.
Big Squid Rating – 8.3/10 – Tentacles.. For under 20 bucks the Zeus 3S 850 mah LiPo performed well and proved it could take a beating.