Zippy 2S 7.4V Hardcase Lipo Battery Review
Zippy 2S 7.4V 30C 2S1P 4000 mah Hardcase Lipo Battery Review
From: Hobby King
Direct Link: Zippy 2s 7.4v 30C 2s1p 4000 mah Lipo
Review by Cubby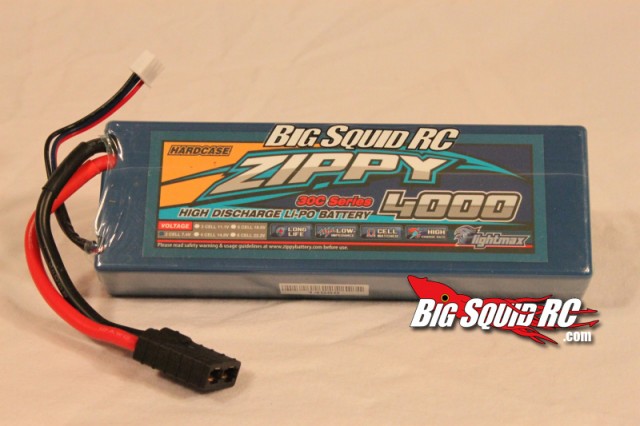 Back in 2004 there weren't many choices in Lipo batteries, but today there are literally hundreds of companies that sell them. HobbyKing seems to be one of the most talked about Lipo companies, so this week we'll be taking a closer look at one of their offerings, a Zippy 2S 30C 7.4v 4000 mah.
Click MORE to Continue reading..
Specs-
Stated Capacity- 4000 mah
Voltage- 2S1P/2 cell/7.4v (max voltage 8.4, min voltage 6.0)
Discharge- 30C constant/40C burst (120 amps/160 amps)
Weight (measured by BSRC, battery including Traxxas connector)- 256 grams
Dimensions (measured by BSRC)- 137x47x24mm
Balance Plug Type- JST-XH
Stock Connector- 4mm Bullet
Max Charge Rate- 1C/4 amps (but 2C/8 amps is stated on web-site)
Street Price- $21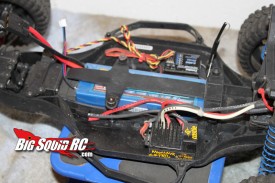 Test Platforms– Venom Gambler, Traxxas Slash 2wd, HPI Blitz RTR, Losi Ten-SCTE, Losi XXX
Test Drivers– Brian, Cubby, Fat Lou
Fit– A battery is of no use if it doesn't fit properly, the Zippy fit into every vehicle we tried with no problems.
Driving Impressions– Does the Zippy feel fast? That depends on what you are used to. If you are used to cheap Ni-mh stick packs, then yes, the Zippy will feel quick. If you are used to the latest and greatest Lipos, then no it won't.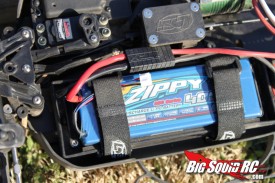 When compared to Ni-mh stick packs, the Zippy gave superior performance. The Zippy spun the tires more easily from a dead stop and had better pull all the way up to top speed. On the other side of the coin, when comparing the Zippy to some of the more elite Lipos on the market, the Zippy came across as having less punch out of the hole, with significantly less rip on top, and less snap up jump faces. For the record, the Zippy 30C we tested generally isn't considered the best that HobbyKing has to offer, so perhaps their 40/50C cells would feel faster, but the 30C unit we tested was noticeably slower than other higher "C" Lipos we tested it against.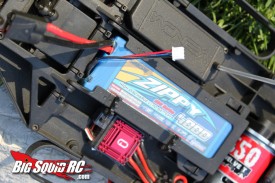 General Notes-
We experienced no issues with the pack while testing. On the bench, and day-in/day-out, the Zippy performed with no complaints.
Our pack came with shrink wrap over the top of its hard case, something that is a bit unusual.
About the graphs–
Using a West Mountain CBA discharger , we performed a 1C/4 amp discharge to test capacity. Next we did a 6C/24 amp discharge, then a 30 amp, and finally a 60 amp continuous discharge to see how well the Zippy held its voltage under load. The higher a battery can hold its voltage, the faster your car/truck will be.
Temperatures at the end of tests (taken via Raytek temp gun, ambient temp 68 F) –
6C- 95.8 F
30 amp- 100.4 F
60 amp- 113.6 F
Measured Capacities–
1C- 4250 mah
6C- 4179 mah
30 amp- 4145 mah
60 amp- 4050 mah
Measured Run Times–
1C- 63.67 minutes
6C- 10.45 minutes
30 amp- 8.31 minutes
60 amp- 4.06 minutes
As with all our stuff, if you see us at a track or bash spot, stop by and say hi! Maybe you can take a test drive, or at least get some sweet stickers!
Summary (in Tentacles)
Time To Bash – 7.0/10 -Is the included connector a good one? We weren't taking any chances, so we installed a Traxxas unit, taking us a bit more time to get going than normal.
Workability – 8.0/10.0 – Should you have to work on the Zippy pack you'll have to cut off some heat shrink before taking on the hard case.

Car Show Rating – 7.0/10 – The Zippy comes across as a bit bland, then add the heat shrink over the top and you've got an average looking pack.

Bash-A-Bility – 10.0/10 – Taking on a 60 amp continuous load is no joke, neither was tackling the Mamba Monster system in our test Losi Ten-SCTE, yet the Zippy suffered no ill effects. The Zippy was also involved in numerous big crashes (testing its shock resistance) and we experienced no problems with the pack.

Big Squid Rating – 8.0/10 – Tentacles. The Zippy 2S 30C 4000 is a respectable performer at a reasonable price point. Is it the best in its price category? That'll have to wait for the next shootout. 🙂
Speaking of lipo's, why not check out one or two of our lipo battery shootouts. They will tell you a lot about lipo's with a ton of comparisons!