Caster Racing Fusion 8th Truggy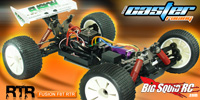 Sweet news from Caster Racing USA is that the Caster Fusion 8th Truggy (F8T) is on coming soon! Ut comes with LPR rims and tires, Lots of CNC parts, and is RTR with a Brushless ESC and Fusion 36/74 1880 KV XXL Motor!
We recently posted a review of the Caster EX-1 Buggy, and if this truggy is built on the same principles, it's going to be a really good vehicle!