Duratrax Evader EXT2 Unboxing Photos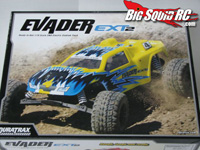 Not that long ago we got the Press Release about the Duratrax Evader EXT2! and before that we had the DuraTrax EXT2 Exclusive Spy Shots!
Well, now we finally have one in the office! I have become a renewed fan of the DuraTrax Evader series after the release of the Evader DT! Heck we did a Evader DT Week! So I can't wait to get it outside for some action.
Quick impressions out of the box, it has a lot in common with the DT and the original Evader. I am missing the huge soft bumper that the DT had, so we will see how much of a beating it can take. I have to admit I like the sticker choice to go with the eyes and mouth instead of the grill and lights. It has those also, but I like to be different, so these brought a smile to my face! I could literally hear Cubby's eyes rolling in his head as I applied them. That makes them even better!
Watch for a full review soon!
Get more info at the DuraTrax web page.