iHobby 2009 – Traxxas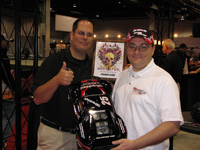 So, stopped by the Traxxas booth early day 1 to present them with an official Basher Approved Award for the Traxxas Slash. Without a doubt the Traxxas Slash is deserving of one of the highest RC awards right now. It's cheap, it's fun, and it takes a beating like nothing else! Peter Vieira did the accepting for Traxxas. The future will tell if the 4×4 can follow in it's footsteps! Congrats Traxxas!
(Bigger more official write up coming once the show is over, and we can all breath again!)
While at the Traxxas booth, we had to check out the Traxxas Slash 4×4! Notice the Monster Max system in the second one! LOL.. that has to be insane!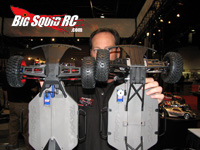 Something we noticed while there.. check out the front skid setup on the 4×4 vs the original Slash. It's a little slicker, and felt a little more durable. I like they way it's more of a one smooth piece setup! (Slash 4×4 is on the left, original on right.)
Remember, where to get your iHobby news first! This iHobby Expo 2009 link will get you all the 2009 updates as we post them! So keep an eye on it.