More Info on the HPI Mystery Mini!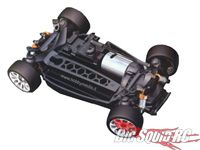 A few days ago we mentioned the leaked photo of a new mini coming from HPI Racing. Well, I made a few phone calls, and got a tiny few more details.
The vehicle is a 1/12th scale car that will use standard sized electronics! So full size servos and ESC, also a regular sized 6 cell battery pack. It's being designed by the same guy who did the 5B! Whoa.. from huge to tiny.. that's cool. No name yet, or at least I couldn't get one out of anyone, so I'll just keep calling it the HPI Mystery Mini!
Stay tuned for more details as they become available.