DuraTrax RT-X 27 Review – 8th Scale Nitro Racing Truck
From: DuraTrax
Direct Link: DuraTrax RT-X 27
First off, let me start by saying that the DuraTrax RT-x 27 is officially
Basher Approved! If you don't know what that means, head over to the Basher Approved section read up. This truck has honestly taken more abuse then just about any other vehicle I have driven, and it's still alive! I'll go into more details later, lets start with the basics.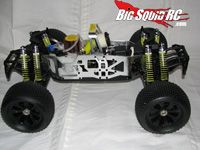 Right out of the box, I was surprised that it's really a good looking truck. The 1/8″ aluminum side plates wrap nicely around the whole vehicle with a well placed roll bar (that makes a great handle) to help protect from those serious lid smashes. When I first took the body off, my eye was drawn to so many different things, it's hard to describe the feeling. If someone would of been standing in the room where the unpacking was occurring they likely would of heard 'Oh.. nice… whoa.. sweet! Cool, nice touch, awesome!' Seriously, this truck has a ton of features that no other trucks have, especially on a stock truck!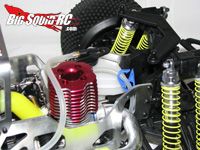 The suspension had this amazing amount of adjustable settings. There were a ton of wholes to set just about any ride height you could want, and the large threaded shocks were a great addition to let me tweak the ride feel exactly like I wanted it. In this shot you can see the slot for the Super Start (drill start) on the side, and the placement of this was perfect! So many vehicles that do come with a drill start have it in the back of the vehicle, and this can make it difficult to access. If you prefer, you can also start this vehicle with a bump-start box. Personally, I'm a big fan of the drill. In this shot you can also see the blue plastic fuel cut off. Sure you can pinch it with your finger, but this is just another nice touch they have included. It's a little safer, plus it can lock to keep the fuel from running into your carb, or if you are doing some engine maintenance.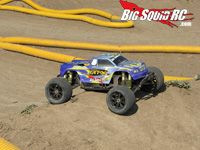 One of the last 'wow' features I will mention out of the box are the wheels. Those black wheels(rims) are really a modern look, and they look awesome when the vehicle is racing by. Some other standard features, a full bearing set, CV Driveshafts, steel differential gears, 3 shoe clutch, adjustable slipper, and of course the SuperTigre 4.4cc G27CS Racing Engine.
The first day I had it out at the track, it caught a lot of attention. You just don't see stock trucks this shiny! Lots of people were asking me questions about it, but the number one question was 'What hop-ups have I done, and what's it like stock?'. I heard that question so many times at the bashes I have had the truck at, or just hanging out at the track, I wanted to get a sticker for it that said 'Yes it's STOCK!'.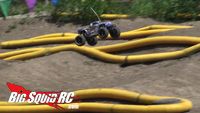 The break in went pretty smooth, except I noticed I was running a little hotter then it probably should of been. After changing the glow plug, and making some adjustments, I discovered the rubber gasket in the back of the engine had a rip and was probably giving me a good air leak. After getting a new one, the truck was hauling as expected. While I'm not sure that it's the fastest stock truck out there, it does hold it's own easily hitting over 35mph without breaking a sweat.
This truck has been to several bashes, and was the WINNING truck in the obstacle course event at the Big Squid RC Bash-A-Palooza event! It has also survived the monster truck soccer event, and dozens of poor huge air landings. To this day, the only broken part was the front plastic bumper, and believe me, it was doing it's job when it broke!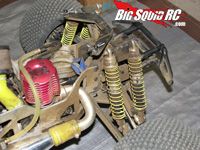 One of my only real complaints is the location/position and size of the battery and receiver compartments. These things are a little small, and made working with them a little difficult. I would of rather seen a larger box with more room for both components, then 2 small separate boxes. The only other improvement I would of liked to see with the stock RTR truck would of been a 5cell hump pack for the electronics. Nobody uses AA batteries, why not add in something that HAS to be upgraded? Duratrax makes some decent hump packs, toss one of those in there. One last issue, the name! Really? Nobody could come up with something better then the RT-X 27? People ask me all the time when I have the truck out, 'hey.. what truck is that?!' and half the time I have to pause and think about it, it just does not roll off the tongue. Guys.. next truck.. call me, I'll come up with something! 🙂
In the end, this truck really took a beating! It's got a win under it's belt, it's got a few bashes under it's belt, as well as a few good bumps on the head. It's a great looking truck with a ton of adjustable options and it's priced well. With the awesome 1 year Stress-Tech Guarantee from DuraTrax, it's tough to go wrong with this truck. After all the abuse, and almost no damage, this truck gets the official Basher Approved seal! Now if only they would do an electric version!
As with all our stuff, if you see me at a bash or at the track, feel free to stop by, say hi and check out the stuff! I'll give ya some stickers, and even let ya try stuff! (maybe… if you ask nice)
SUMMARY
Time To Bash – 8.0/10 – Add some AA's, break-in, and go.
Workability – 9.0/10 – The truck isn't to bad to work on, could use a little electronics room.
Car Show Rating – 9.5/10 – Tons of Bling, sweet wheels, good paint!
Bash-A-Bility – 9.5/10 – All I could break is a bumper? Impressive.
Big Squid Rating – 9.5/10 – Tentacles.. Durable and priced right!