Kershaw Designs 1:8 Scale Brushless Combo
From: Kershaw Designs
Direct Link: Kershaw Designs Gen 2 – 4S LiPo System
Cost: Only $134.99!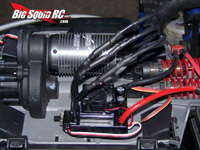 Shortly after our Kershaw 1:10 Scale Brushless Review, we got started on the 1:8 scale review. Would it test as good as the 1:10 scale? Is it worth the money? Lets find out.
This new 1:8 scale system is the Kershaw Designs Gen 2 4S LiPo Systems. We decided to drop it in a Traxxas E-Revo we had to see how it compared to just the stock dual motor set up. The installation went smooth, we needed a larger pinion gear because of the 5mm shaft which was simple enough to come up with, and the initial programming went pretty smooth. The all black color coating of the 3 motor wires could make it a little confusing for a newbie. Something to keep in mind here, if you plug it all in, and things are not going like they should, it's slow, or stuttering badly, swap two of the motor wires at the plugs. If it's still not working, swap another two. This is a small issue with some brushless systems. Try not to get discouraged, mark the wires in some way with tape so that you can keep track of what ones you swapped.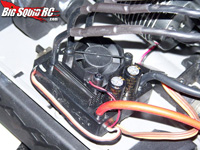 After we got everything running properly, it was time for some action. Immediately, the power upgrade was noticeable. We could now hold a wheelie the full length of the block with no problem.
From a dead stop, the low end torque was impressive, and it could easily move or Revo with no problems. What basher does not like wheelies on command? It even put us up onto the wing! You may want to get a wheelie bar!
Braking was also very strong. You could easily lock up those big tires and bring the truck to a halt.
Our top speed was around 34mph. With the low KV and powerful low end, some gearing tweaks could easily bring that number up a little. The motor and esc ran relatively cool under constant high speed runs.
In the dirt and the grass, the system had no problems moving our truck around. When letting your finger off the throttle, it felt as if the drag brake is slightly set. This wasn't a big deal, but something to keep in mind when hitting the jumps because you may find yourself going nose down if you are looking to just glide it out.
So is it worth $134.99? Yes. It has plenty of power and decent speed for the price. For anything better your gonna be adding $100+ onto that price tag, so if you are on a budget, and want an upgrade, this is a good option. If you pick up one of these systems, pay the $15 and get the programmer so you can tweak the settings how you want.
As with all of our stuff, if you see us at the track or at a bash, stop by and say hi! We'll probably let ya drive/test whatever we seem to have our hands on. At the very least you'll get some stickers out of it.
SUMMARY
Time To Bash – 8.0/10 – Install Motor and ESC takes time, setup was quick.
Workability – 8.5/10 – Pick up the programmer. Save some time.
Car Show Rating – 7.0/10 – It's big and metal
Bash-A-Bility – 9.0/10 – Lots of low end power to keep the wheelies moving, could use a little more top speed. We recommend investing in a wheelie bar!
Big Squid Rating – 8.5/10 – Tentacles.. It's a lot of power for a basher on a budget.
Don't forget to check out the Kershaw 1:10 Scale Brushless Review here.