Traxxas Slash 4×4 Platinum Edition Review
From: Traxxas
Direct Link: Traxxas Slash 4×4 Platinum Edition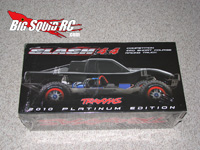 Ever since the 2wd slash hit the market people have been asking for a 4wd version. Well, it's here! But this wasn't just a 4wd upgrade. You want more power? O.K. How about the Traxxas Velineon Brushless system to help over power the 4 wheels. How fast do you want to go? well, put a mild 2c lipo in it and you'll have a big grin on your face. Go for a 3c and your face will hurt by the end of the day!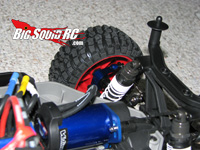 We got our hands on the Platinum Edition. All that aluminum sure looks nice! And with the Big Bore shocks and sway bar kit, It's attitude in the corners is easier to handle, and there are a lot less rollovers with the sway bar installed. The Platinum kit also comes with a installable center diff. It was amazing how different the handling was after we put it in. The total install took about 2 minutes, and the control in the air was night and day! It felt more like a 1:8 buggy than a Slash!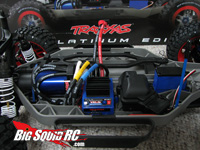 After having some time to beat on it, I have to say, the 4wd Slash is awesome! I can't count the times I have had the 2wd on its side on the track, waiting for a turn marshal to flip me over. With the 4wd, turn the wheel and grab some gas. You're on your wheels and back in the race. Outside on the street, the slash is a blast to drive. 4wd drifting, powering threw snow, grass, and dirt are effortless. Yes, you will still slide around a bit. But you have to remember, the tires are 1/3 the width of a mt tire. Even with that, this truck is a lot easier to control and a lot more predictable. Even in the air.
Someone asked "how water proof is it?" Have you seen our video? We ran it in the snow outside for a while and completely filled the chassis with snow! The motor and esc ran so cool they did not even melt the snow around them!
During our testing, we ran into a couple of new issues from Traxxas. The first, we stripped the front drive shaft gear that goes into the front diff. For some reason, Traxxas didn't use a metal gear like they did in the rear, but a plastic one. To make things difficult, the front and rear can not be swaped! Really? Come on Traxxas, why would you do that to us? The other issue, which is also new for Traxxas, the spare parts have been hard to come by. It's not that the hobby shops aren't carrying them. They would if the could. Just seems like the big T has been a little slow making the parts available to the shops. Lucky for us, there are a lot of other companies already making some great hop-ups and replacement parts for the Slash 4×4, including making a metal front gear to replace the plastic Traxxas one!
As with all our stuff, if you see me at a bash or at the track, feel free to stop by, say hi and check out the stuff! I'll give ya some stickers, and even let ya try stuff! (maybe… if you ask nice)
SUMMARY
Time To Bash – 9.0/10 – The RTR in ready to rock out of the box. Top off the charge on the included battery and fill up the radio with some AAs and your bashing, The Platinum
takes some time to install your own reciver. But you knew that befor you got it home.
Workability – 10.0/10 – This truck is so easy to work on! Four screws from the back end and you have the slipper assembly in your hands.
Car Show Rating – 9.0/10 – Scale looks of a CORR truck. Realistic tires and rims. And a clean layout under the body and some nice aluminum bling makes this truck a show stopper.
Bash-A-Bility – 8.5/10 – A 4wd truck that you only need one battery for meens you have more run time, and less time sitting waiting for batteries to charge. And the 4wd can get you out of almost anything. Except for a couple of gear issues easily fixed by aftermarket parts, this truck is a ton of bashing fun!
Big Squid Rating – 9.2/10 – Tentacles.. Traxxas scored a big hit with this truck. 2.4GHz radio (in the RTR), brushless power, 4wd, Traxxas reliability and after market support!
Click here to see all of our Traxxas Slash 4×4 un-boxing pictures we have posted.
While it's still a Slash Short Course truck, it's very different from the regular Slash we have all come to know and love. I'm pretty sure this truck will end up in one of Cubby's "rc cars you must drive" reports one day.