RPM RC Products Awarded Basher Approved Lifetime Achievment Award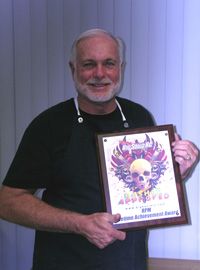 It is with great pleasure that we can award RPM RC Products the first ever
Basher Approved Lifetime Achievement Award!
We feel that Richard (seen here accepting the award) and his group at RPM are the absolute ideal company creating amazingly durable products for the RC industry and bashers all over the world. Their products are designed and created for people exactly like us in mind, the people that like to push their RC vehicles that extra inch and take those chances. The parts are designed to be stronger and usually lighter then they stock parts they replace, and around the same cost! Any time we need a replacement part for a vehicle, we always check to see if there is a RPM part we can use because we trust their products, and we know if we go with RPM we probably won't have to replace that same part again in the near future.
If you are unfamiliar with RPM RC Products make sure to head over to their site and check out what they have to offer. We have trusted their products for many years now, and can't show our appreciation enough for their hard work and dedication to the RC Basher community!
Thanks RPM! You are truly deserving of this award!