Schumacher Mi4 Shipping Soon With Race Edition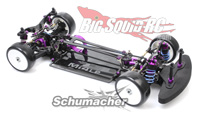 A while back we mentioned the Schumacher Mi4 would be shipping soon with some cool features, well we just got a press release mentioning that it's also shipping in a RACE version to help keep the prices low to get it into people's hands, while also coming in KIT or Assembled form. If your an on-road guy, you should probably keep an eye on this one!
For more info, hit the official Schumacher USA website.