Team Novak – Rooster Crawler ESC and Brushed Motor Combo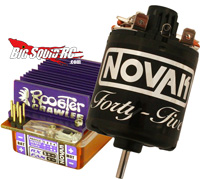 New from Team Novak is the combo of the Rooster Crawler ESC and their Forty-Five Brushed Motor. For you brushed fans out there, this is a pretty killer combo.
If you are into the rc rock crawling scene, but thinking about going brushless, make sure to read our REVIEW of the Team Novak GOAT Brushless System.