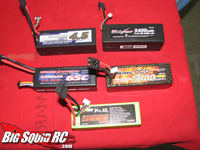 Again we bring you one of the most anticipated RC articles on the internet! Our 3rd battery shootout!
This time around, the flood of emails after the second shootout seemed to suggest that we take a look at the 4S lipo market, and who are we to deny our readers?
We used some new equipment during our testing, and it took a little longer to get done, but the 4S Lipo Battery Shootout is finally here!
Have an electric truggy, buggy or truck in need of a 4S pack? Want to know what pack will get you the top speed? What pack won't break your piggy bank? What pack will save you some weight? Consider the following a mini review of these 4S Lipo packs to help you choose the one for you. Head over to our4S Lipo Battery Shootout now!