Trackside Hobbies – Short Course Showdown


So we headed out to Trackside Hobbies to watch some racing during the Short Course Showdown this weekend. We snapped a bunch of pictures, talked to a ton of people, and had a great time.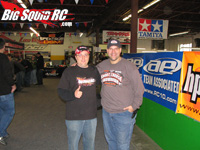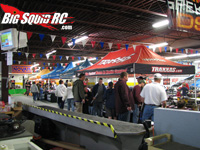 First I'd like to thank Scotty Ernst (seen here on the left with yours truly) for organizing and promoting such a great event. Scotty does an amazing job of running the show. Besides being one of the best (if not THE best) announcers in RC, he really knows how to create and promote a friendly atmosphere. While Trackside isn't the biggest rc venue in the industry, I have to say it's one of the friendliest! We have written many times about the jerks we see at the RC tracks, but under the Trackside roof, we saw none of it. There were TONS and TONS of kids, not only spectating but racing and participating!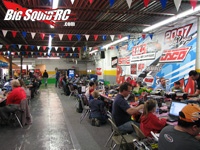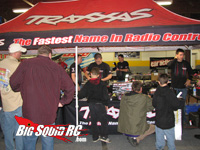 It's rare that we see an environment like this, and I wish other tracks around the US would follow in their footsteps. Whenever Big Squid RC has an event, or a race night, we invite as many kids as possible! Remember it's a hobby, pass it on! I couldn't be more happy to see Trackside has the same attitude!
A great thing about these big events, is that we get to run into a lot of people we only get to chat with a few times a year in person…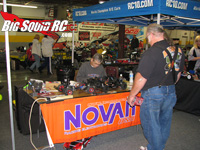 You get to watch racers like Jared Tebo do their best factory racing, you get to talk to some of the magazine editors like RC Car's Aaron Waldron. You can ask questions directly to all the big factory reps like Damron Atkins of Traxxas or Rodney Wills of HPI. You can even ask Bob Novak himself about some future Novak products like their new Brushless Short Course motor!
The Trackside facilities were pretty sweet. They have a decent sized hobby shop, an indoor carpet on-road track, the indoor off-road track, and even a ton of pinball machines to keep you busy between races! While the dirt track isn't the biggest by any means, it was well taken care of, and had a good layout.
Here are a few more shots of some of the action, and the pits. The place was packed with over 200 SC entries! We got to watch the new HPI Blitz ESE in action, and it looked like it handled the track pretty well. I'm looking forward to getting my hands on one!
Traxxas was there showing off the latest RTR version of the Slash 4×4, Team Associated, Thunderpower, Dynamite, JConcepts and a few other's were also there showing off product, talking with people and answering questions.
We also got to hand out a couple of Basher Approved ™ awards to the HPI guys. You can read all about that right HERE.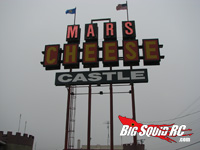 No trip to Trackside or Wisconsin would be complete without a stop at the Mars Cheese Castle! Bill and I stopped, picked up some supplies, you never know when you might need some cheese!
I'm really looking forward to the next big event at Trackside! If you are in the Wisconsin area, make sure to stop in, and tell them Big Squid RC sent ya!